Charles-André Bilodeau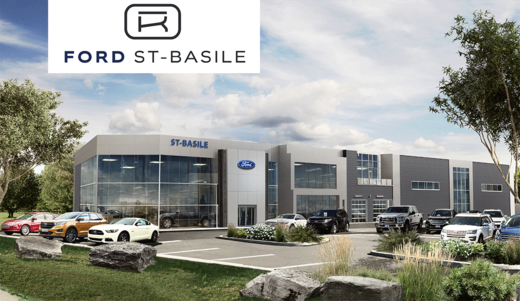 Charles-André Bilodeau has been president of Kia Chambly since it opened in 2012 and, most recently, Ford St-Basile, a new, state-of-the-art concept that will open to the general public on November 27th. Inviting the consumer in a technological atmosphere, iPad screens to monitor the repairs of your car live, open area on the service bays, gym, cloakroom, showers, bistro, outdoor terrace and more, Ford St- Basile has put everything in place to give his clients a memorable experience in an inviting setting.
Its exterior concept is ranked 1st in Canada and its avant-garde interior design is the 2nd of its kind in the world. "I've been inspired by hotels for customer service: I want my customers to be pampered and to be looked after from A to Z during their visit, that shopping or repairing their car is not a problem. chore, but rather a pleasant and relaxing adventure, "said Mr. Bilodeau.
"1st Dealership in Canada with the New Ford Image"
Passionate about racing cars, automotive industry and bikes Mr. Bilodeau started his studies in Florida but completed them here with a Bachelor's degree in International Business at Concordia University. But he also has a long track record related to the automotive field.
"I have owned a racing team and I raced for 10 years. In 2007, I was crowned Canadian champion by the Touring Car. I also participated in competitions in Quebec, Ontario, and the United States."
"Cycling is part of my life and this physical training is reflected in my work; here too I give myself entirely to achieve good performances. "
I am a consumer of automotive experiences, it is one of my greatest passions, with cycling and training. I do a lot of cycling; I often leave Montreal to get to work, a distance of about 70 kilometers round trip. I participate in the Mardis cyclistes de Lachine and, in 2015, I was Quebec Champion Master A at the Provincial Road Cycling Championship.