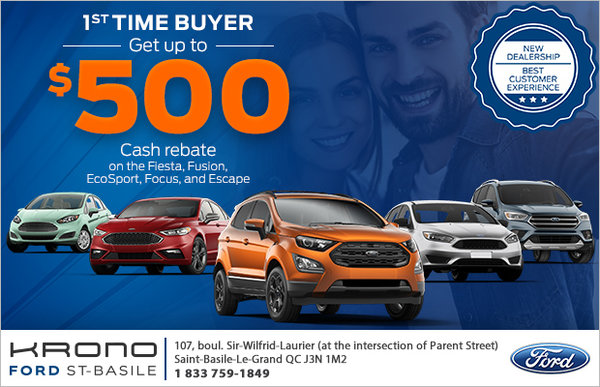 First Time Buyers Program!
There's a first time for everything! For your first vehicle, get up to $500 cash rebate on the Fiesta, Fusion, EcoSport, Focus and Escape models at Ford Saint-Basile!
For first-time vehicle buyers, we have also extended the Ford First-Time Buyers Program and Ford New Grads Program for the full 2018 calendar year. Remember, these programs are currently available. when buying the Focus, Fiesta, Escape or Fusion models!


Beginning January 3, first-time buyers and new graduates will receive a purchase or lease bonus for the new EcoSport 2018 models!
Hurry! This offer is available for a limited time only.
Book your test drive today!